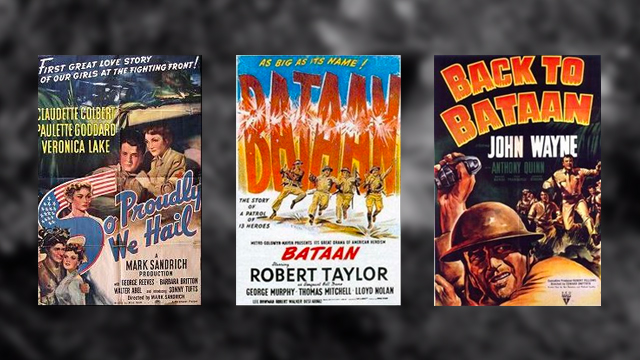 As we celebrate this year's Araw ng Kagitingan (Day of Valor), let us go back to the time when Bataan was an important Hollywood theme for movies. Like other Hollywood films then, Bataan was an effective theme to impress upon the viewing public what the government wanted. Elmer Davis, Director of the Office of War Information (OWI), was first to recognize these possibilities. He stated that "the easiest way to inject a propaganda idea into most people's minds is to let it go in through the medium of an entertainment picture when they do not realize that they are being propagandized." Hollywood and the rest of the entertainment industry became an integral part in stimulating patriotism and morale, including the events that took place in Bataan.
An early film on Bataan came out in September 1942 with OWI collaborating with Paramount Pictures to produce a "Victory Short" propaganda film entitled A Letter from Bataan. The short features two American soldiers in the jungles of Bataan when a bomb drops, killing one of the soldiers, and wounding Johnny. Johnny, on his death bed, writes a letter begging his family back home to ration and conserve to prevent the death of soldiers in the field due to lack of materials and food. A Letter from Bataan is part of a series of films made by Paramount Pictures to encourage the American public to participate in the war effort.
Bataan
The first Hollywood wartime movie with Bataan as a theme was produced in 1942, before the first year anniversary of the attack on the Philippines. At the urging of the OWI, Metro-Goldwyn-Mayer (MGM) released Bataan in 1943. MGM began discussing the movie with OWI as soon as the Bureau of Motion Pictures opened in Hollywood and its script submitted in 1942. The OWI praised Bataan for showing "a people's army fighting a people's war," "makes an especially good contribution," and "should be given an export license." The film, shot entirely in a studio, was released in the US on June 3, 1943.